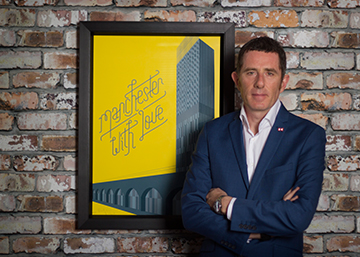 This is the latest in our series of conversations with leaders who "get" social media and actively use it as part of their day job.  For some, this is about engaging with customers or service users.  For others, it is about connecting with the people that work for them, or simply part of their employer brand.
This week it is Phil Jones MBE from ICT services provider Brother (www.brother.co.uk). As well as being their MD, he is also a NED and President of Greater Manchester Community Foundation – Forever Manchester.  Named on the Power 100 for Insider North West Magazine, a Top 100 Thinker by Britain Means Business and a Top 100 figure in the Manufacturing industry, under his leadership Brother have been named a Times Top 100 Place to Work as well as an Investors in People 'Platinum' employer in 2016.
If all that wasn't impressive enough, Phil is a former winner of Institute of Directors 'Manchester Director of the Year' and 'North West Director of the Year in 2011' and in June 2016 he was awarded an MBE for Services to Business. He has been on Twitter since 2008, which makes him an early adopter.  You can find him there as @PhilJones40. He blogs at www.philjones.biz and you can find out more about him at https://branded.me/philjones.
This is what Phil had to say about leading socially….
What are your social media platforms of choice and why?
I use Twitter primarily for status updates and tips and keeping track of the network of people I know, Linkedin for longer form writing and blogging as the automated sharing and notifications make distribution very efficient.  Facebook I keep strictly for friends and family.
How do you believe that your use of social media has benefited you in your leadership role?
In many ways.
It allows anyone wanting to join the business to get an immediate sense of our culture and my own personality which is becoming increasing important when people are selecting where they want to work.
It gives a platform to regularly communicate to customers and partners at all level of our supply chain to let them know what we're doing in a more personal way that they may see in the press.
It puts you right in the epicentre of understanding the latest trends, technology and key issues.
It means opportunity reaches me more quickly than many of our competitors.
How engaged do you find the rest of your organisation with social media? 
Personally I think the bulk of people are engaged with social media in terms of their personal lives, using Facebook.  At least half the company uses Twitter and nearly everyone is on LinkedIn.  The tone very much gets set at the top when it comes to giving permission to people to be brand ambassadors via building their own social profiles, not everyone wants it or is comfortable with it. I'm personally engaged and encourage others.
What, if any, downsides do you see to being a leader on social media – and what do you do to avoid them?
There aren't many, occasionally you find people expect instant responses from you, it's the nature of the platform so meeting that expectation isn't always easy.  When you're giving attention to other things – meetings, conversations or planning – then it's not practical to do that as you're focused elsewhere.  There may also be times when individuals want to debate a point to the 'nth degree and that's not always practical so good to have a think before you post particular things.  I tend to avoid politics for example as it can often divide.
How have you used social media to connect with customers/service users/key stakeholders?
Absolutely.  I often refer to myself as the 'COE' of the company 'Chief Opportunity Engineer' whose job it is to assist with opening doors for our sales team with senior decision makers.  Using Twitter and Linkedin as part of that process is key.  It's an excellent application to keep relationships warm.
What advice would you give to other leaders who want to use social media?
Choose the appropriate platform and get started. Spend your early days understanding how it all works. Devote 15 minutes a day to the platform.
Do It Yourself.  Some outsource their social profile to an agency which I'm personally not in favour of.  Keep it real, keep it you.
Specialise. Pick the genres of things you want to be seen as a specialist in and focus on distributing content in those topic area.  For me it's all about quality more than quantity in terms of content and followers.  I focus on Leadership, Quality thinking and tips for success.
Use tools to filter out noise. I use Hootsuite which allows me to filter people into certain themes or topics meaning you can save time if wanting to keep track of particular people or specific topics like Leadership or Innovation.
It's not all about the business. Show some of your own personality, share some of your own thoughts or perspectives.  Keeping a good balance of who you are relevant to the business you run works.
---
A big thanks from us to a truly social leader for sharing his insights with us.
Now it is shameless plug time…  don't forget you can buy your very own copy of our book on Putting Social Media to Work, which features lots more practical advice for leaders, right here.
Next week on the #SocialLeaders series is Jo Swinson, former Business Minister and Director of Equal Power Consulting.